Introducing: The first indoor worm-free composter made of ceramic.
Minimalist/Natural/Worm-free/Electricity-free/Worry-free

COMPOT is an indoor composter that allows you to transform your bio waste into compost, on the spot, right where it's created, by simply letting nature do its work. 
Natural, Worm-free, Electricity-free, Worry-free
Minimalist design inspired by Nature. With The Help Of Microorganisms Convert Your Organic Waste Without Odors Into Soil In Your Apartement. 
COMPOT is the first indoor worm-free composter made of ceramic. Suitable for indoors and outdoors. With the help of microorganisms convert your organic waste odorless into soil in your apartement.made from natural clay, making it an eco-friendly alternative to plastic-based composter. 
Material: Porosous fired clay
Height: 47cm
Diameter: ø 35cm
Weight: ca.15kg (unfilled)
Capacity: 0.5 – 1.2kg/week 1-2 liter/week
Not frost-proof.

Odorless and natural
COMPOT is made of a breathable material: clay. Thanks to that, enough oxygen gets into the composter to make the process 3 times faster than regular composting, and also makes it odorless. With a little care, you can create an ideal composting environment in COMPOT that gives off the scent of a forest floor in your apartment.

Easy to use
COMPOT use a low-maintenance, natural process with no need for complicated setup or ongoing attention. Simply let the composting process take place.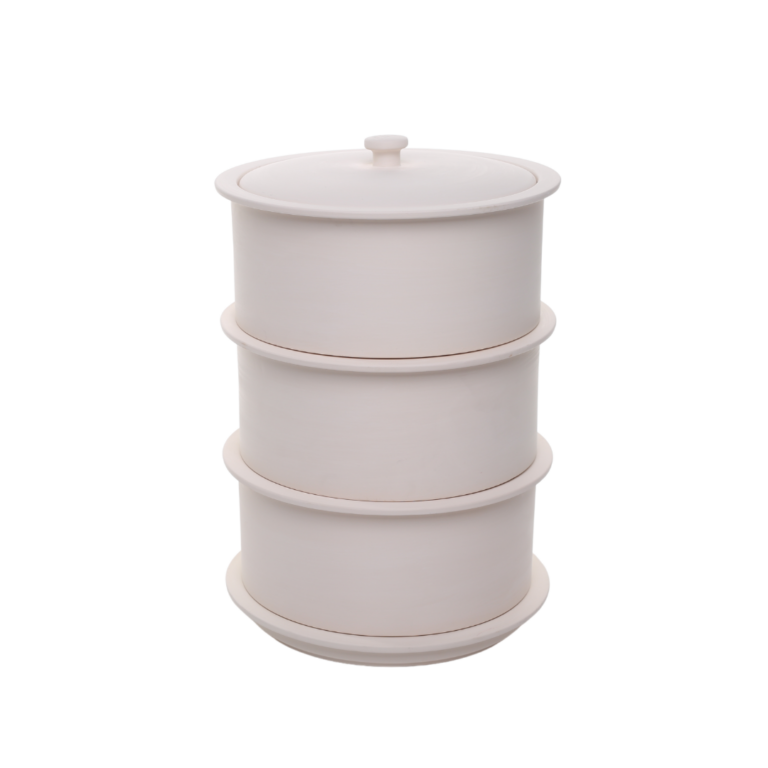 Must have for a
zero waste kitchen
1/3 of our kitchen waste is biodegradable and big part of that one can be composted in COMPOT. So if you want to have a Zero Waste lifestyle you can start with composting. Also it's sleek minimal design that you'll be proud to have in your home.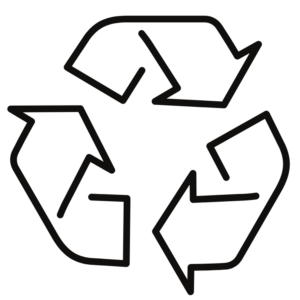 No electricity, no worms or additives needed
COMPOT uses a microbial material mix and the power of natural clay. It requires no electricity. All you need to do is "feed" your kitchen green waste once a week into the composter and add water and the microbial mix.
You can use it all-year-long
You can fill each COMPOT pot with 12 liters of bio-waste and it will decompose three times faster than it would via conventional composting. This means that within 3-4 months, you'll have nutrient-rich compost ready to use on your houseplants. Say goodbye to smelly waste bins and hello to composting made easy with COMPOT.

Inspired by nature
COMPOT is made from all-natural clay, making it an eco-friendly alternative to plastic-based composters. Clay allows the pot to "breathe" and eliminates odors in this natural way. COMPOT uses a microbial mix for decomposition which happens similarly in nature.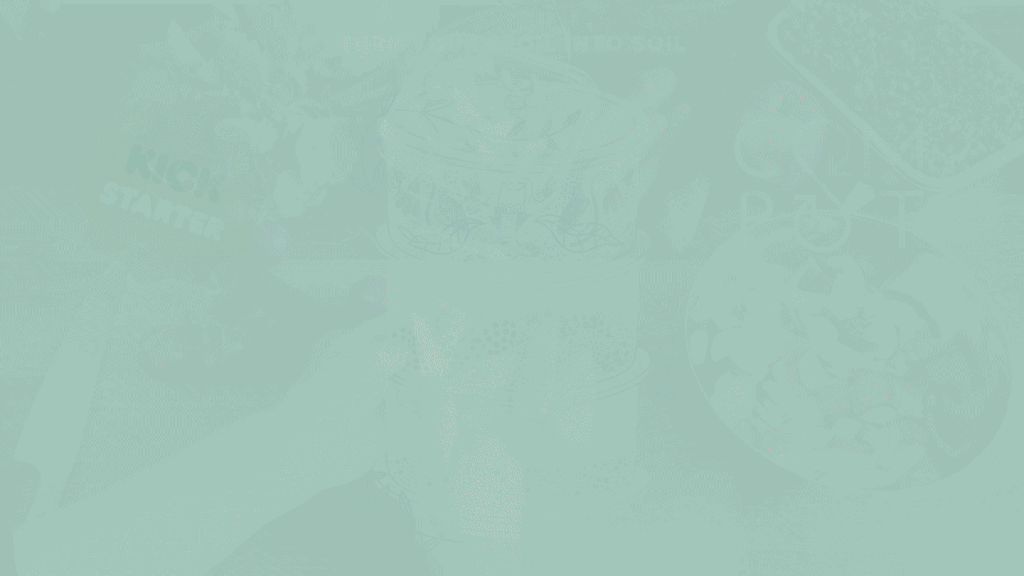 Precollect your kitchen biowaste
Precollect separetaly your biowaste from your kitchen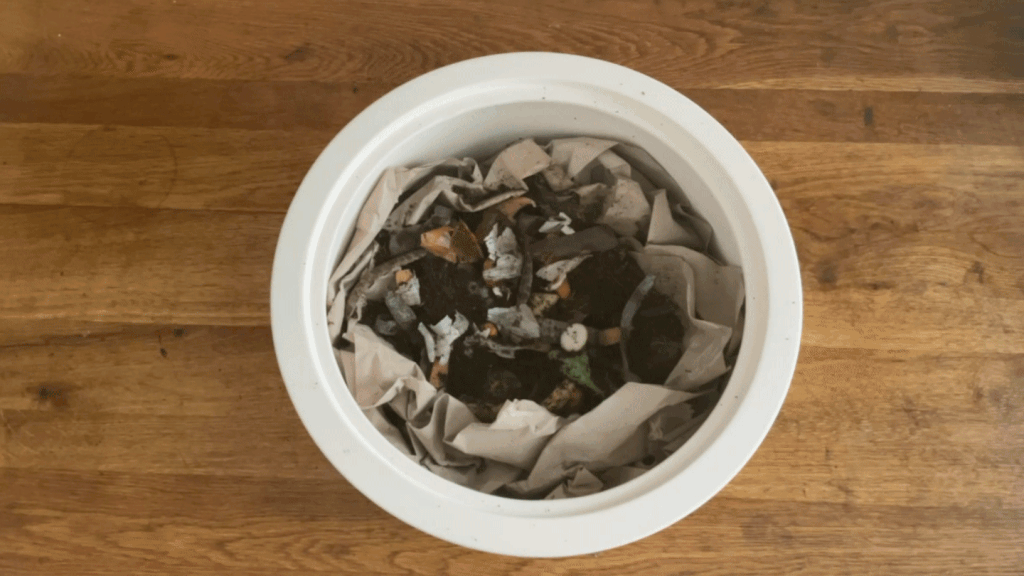 Put your weekly 1-2 liter of precollected biowaste into the composter.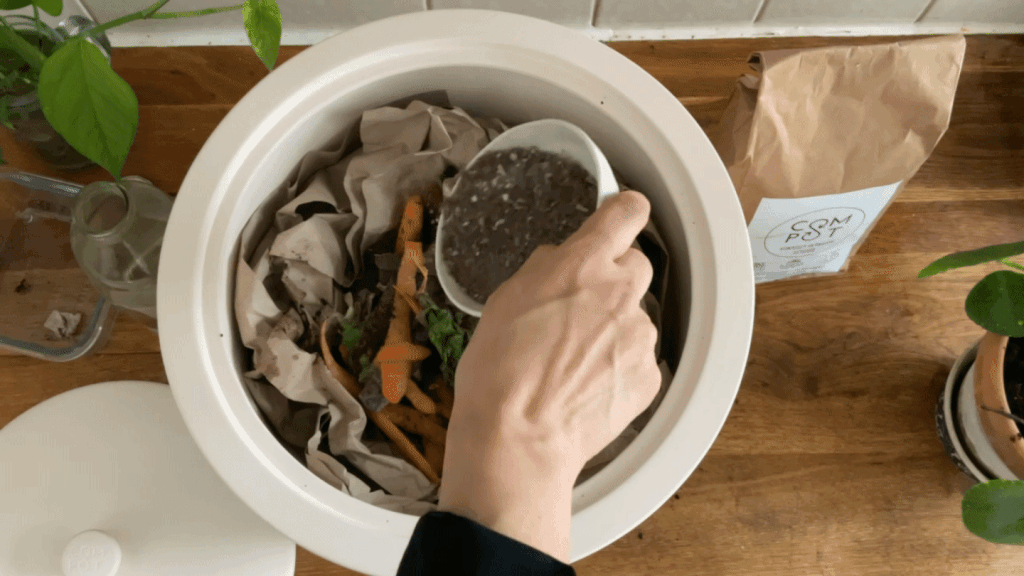 ADD compot activator, water and stir
Add your COMPOT microbial activator mix and water to the COMPOT and put back the lid.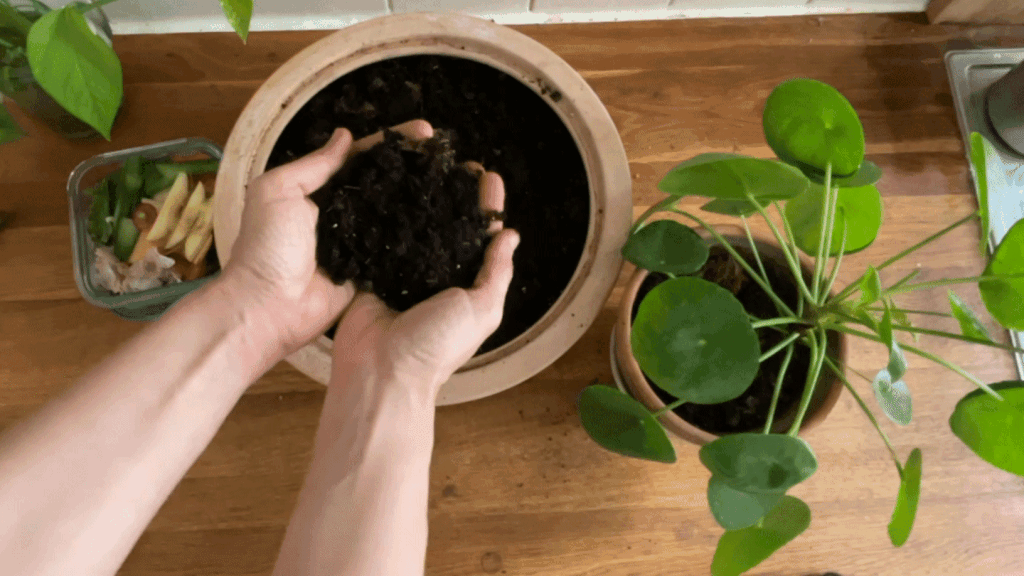 Harvest crumbly ready
compost in 3-4months
The finished compost is dark brown, crumbly, and parts of the starting waste are not recognizable in it. By sifting, we remove our finished compost from even larger pieces. It is good to use our compost as soon as possible, as it is a material full of microorganisms.
We can also do a germination test with it if we are not sure if it is ready. test: sprinkle sporoutable seeds that are easily germinating on top of the compost, water and the seeds should germinate from our compost within 3-4 days.
34% of mixed municipal waste is organic waste, which is a huge problem. For example, in the EU, 54 million tonnes of food is wasted each year. It is estimated that this represents 6% of total global CO2 emissions.
Almost 55% of this food waste is generated by us consumers, and comes from households, which is really concerning.
Luckily, we have a solution: composting. When organic waste is collected properly, it can be turned into a resource. As such, food waste and other organic materials can be properly recycled.
In COMPOT, your chopped kitchen green waste goes through all the stages of decomposition by microorganisms. With the help of the COMPOT composter activator mix and some water, you activate the composting process. The activator contains everything you need for composting without worms. There is a microbial mix, some good quality dry material for absorbing the leachate from your bio waste, and volcanic stones for absorbing smells and creating an optimal environment for natural composting. 
COMPOT composting is 3 times faster than conventional composting because the clay walls of COMPOT help to aerate the mixture. After 2-3 months you can harvest fine, crumbly, nutrient-rich soil, which is a real joy. And even more so afterwards, when your indoor or balcony garden is bursting with health and fruits.
See our what has our satisfied
customers have to say..
"COMPOT is a living ecosystem - it needs a little care and attention and it will give you black gold!"
"I have been a COMPOT owner for about six months. When I first assembled the three COMPOT pots, lined them with paper, added in my pre-chopped organic waste and sprinkled with the activator mix, I was so excited. It was like an experiment. Week after week I could watch all this food waste mix and transform into something natural and fresh smelling. Two months later, when I scooped out my first handful of ready-to-use humus soil, I was so proud that even I had managed to do it. Since then, I have been using my own compost along with plain vegetable and potting soil for our small garden, our potted plants and other friends' gardens. Thank you for the opportunity."
"My COMPOT does smell like a "forest floor" in my apartment! It was never smelly and never had any fruit-flies. I add a small to large amount of kitchen waste every week, but luckily it keeps eating all the "waste". All in all, I love it! This microbial worm-free process is genius! It really never had any bad smell, even though I put in cabbage that had been maturing in a jar for 1 week."​
"I was first impressed by the smell of ceramics. I have fed the top pot three times in small portions. I have no complaints, in fact, the process already started during the first week. I take care of it only once a week: it takes 10 minutes and it is working."​
"Feel free to experiment! I love following the composting process, the look and feel of my compost (smell, texture, colors ...), experimenting with what I can put in, how small I should chop the vegetable pieces, etc. The amount of kitchen waste has decreased and I plan my weekly menu much more in advance now that I have a COMPOT. People living in my household are also more (much more!) aware of what is waste and what is compostable."​
"My boyfriend hated that I always collected compost in boxes until I could empty it into a community composter. Sometimes it got really stinky in the plastic container. Then we got COMPOT, which he loves, and he is keen to look after it!"​
Some answers for frequently asked questions. Learn more in the full FAQ section. 
We are a super small enthusiast group of friends and artisans from Hungary who are passionate about indoor and decentralized composting and Nature. 
With your support on Kickstarter will help us bring COMPOT to households across the EU and beyond. We need your help!
OUR product is ready and we have more than 100 satisfied COMPOT users. Until now everybody loves our COMPOT, for it's natural process and for simplicity.  
Help us to make it happen!
Until now everybody loves our COMPOT, for it's natural process and for simplicity. 
Join our pre-launch list to get to know more about our project and get huge pre-launch discount!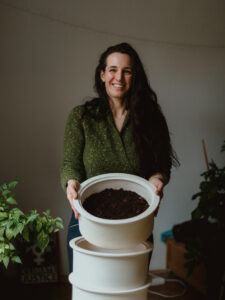 Hi I am Tünde, the founder of COMPOT and this is my first product. Born out of my love for observing processes of nature.
I started composting twelve years ago And I tried many different indoor composters, but I could never find one  that it's odorless, without electricity and worms. And it's from natural material. In addition, I wanted one which I can be proud of having in my apartment.
 I knew that I had to create my very own design, thus COMPOT was born.