recreate the composting cycle of nature in our home
See our what has our satisfied customer has to say..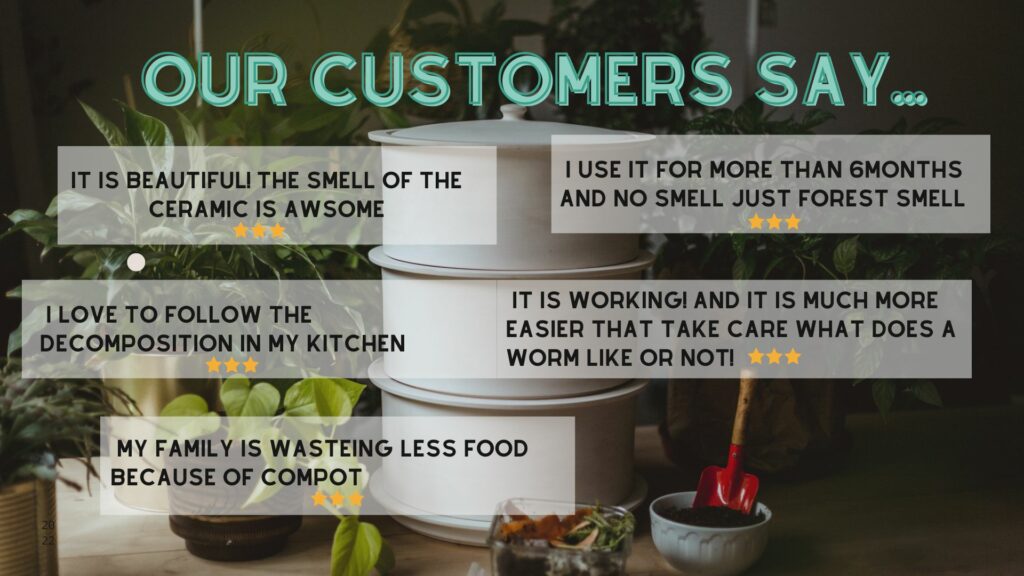 "COMPOT is a living ecosystem - it needs a little care and attention and it will give you black gold!"
"I have been a COMPOT owner for about six months. When I first assembled the three COMPOT pots, lined them with paper, added in my pre-chopped organic waste and sprinkled with the activator mix, I was so excited. It was like an experiment. Week after week I could watch all this food waste mix and transform into something natural and fresh smelling. Two months later, when I scooped out my first handful of ready-to-use humus soil, I was so proud that even I had managed to do it. Since then, I have been using my own compost along with plain vegetable and potting soil for our small garden, our potted plants and other friends' gardens. Thank you for the opportunity."
"My COMPOT does smell like a "forest floor" in my apartment! It was never smelly and never had any fruit-flies. I add a small to large amount of kitchen waste every week, but luckily it keeps eating all the "waste". All in all, I love it! This microbial worm-free process is genius! It really never had any bad smell, even though I put in cabbage that had been maturing in a jar for 1 week."​
"I was first impressed by the smell of ceramics. I have fed the top pot three times in small portions. I have no complaints, in fact, the process already started during the first week. I take care of it only once a week: it takes 10 minutes and it is working."​
"Feel free to experiment! I love following the composting process, the look and feel of my compost (smell, texture, colors ...), experimenting with what I can put in, how small I should chop the vegetable pieces, etc. The amount of kitchen waste has decreased and I plan my weekly menu much more in advance now that I have a COMPOT. People living in my household are also more (much more!) aware of what is waste and what is compostable."​
"My boyfriend hated that I always collected compost in boxes until I could empty it into a community composter. Sometimes it got really stinky in the plastic container. Then we got COMPOT, which he loves, and he is keen to look after it!"​
We are really happy that they shared their thoughts about composting, motivation, journey with composting. And I am so proud of them!